Show Date: October 15th, 2017 (Rain or Shine)
Show Times: 9:00am – 4:00pm
Admission: FREE for all ages!
It is the most action-packed Car Show on the Shore!
The 7th Annual Ridgely Car Show accepts all years, makes & models of cars, trucks and motorcycles in dozens of classes.  There will be over 100 trophies, including some very unique trophies for specific classes, awarded on a judged basis.
The car show gate will open at 6am the day of the show, with registration beginning at 8am. Registration money will be collected at the gate this year, which is located on the Sunset Boulevard entrance to downtown Ridgely.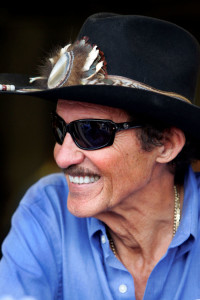 "The King" Richard Petty will be appearing and signing autographs at the car show.  Also, a Petty car will be on display for the event.  Be sure you are there for this once in a lifetime opportunity!
Richard Petty will be signing from 12:00 – 2:00pm.  You will need to have a wristband in order to get in the line.  Four-hundred wristbands will be handed out the morning of the show, beginning at 6:00 am. Also, there will be chances to win wristbands in the coming months. To keep the line moving, only one item per person is allowed.
Proceeds from the show benefits The Petty Family Foundation, Pink Cares of the Eastern Shore of Maryland and Dolly Parton's Imagination Library.  For more details on these charities and how the Ridgely Car Show benefits them, check out our Charity Page.
Please note that the show is generally handicap accessible; however, the show is held outdoors, so there will be uneven spots in the ground, curbs, gravel surfaces, etc.  There will be accessible restrooms (Port-a-potties) available on site.
Where to Stay
There are two hotels in nearby Denton, MD:
Best Western Denton Inn – 410-479-8400
Econo Lodge – 410-820-5555
These three hotels are located in nearby Grasonville, MD, a convenient 20 minute drive from the show:
Holiday Inn Express – 410-827-4454
Hilton Garden Inn – 410-827-3877
View Previous Year's Car & Motorcycle Show Details
View the details and photos of previous year's Shows here.
Learn More